2018 CPUs & Graphics Fight, AMD vs Intel & NVIDIA (Ryzen 12nm and 7nm, Vega 12nm and 7nm, Volta 12nm)
A lot have been happening in 2017 in PC hardware and especially in gaming. For AMD it has been the strongest comeback to gaming market. It has been really successful for AMD, they actually just made a deal to make the On bourd graphics on Intel chips, can you believe it AMD and Intel working together. AMD RX Vega and AMD Ryzen both were very successful and made a lot of money for AMD. On the other hand Nvidia has only released new versions of the same graphics line "Pascal" to stay at the top without revealing the next generation of graphics the Volta 12nm. Nvidia release just recenlt the GTX 1070 TI to catch up with RX Vega 56 and then the Titan X for Star wars. No New Move yet. Intel has Also released the 8th gen CPU line which has been very successful.  But now after almost a year AMD is planning for the second move. Not still talking about 2018, AMD just added 4 laptops to be released soon. And one of them is made by ASUS ROG PRO 8-core gaming laptop which is the first 8-core Rog ever made and notbookcheck mentioned it as the fastest multicore benchmar ever got in a gaming laptop. All this back story is to tell you what is expected to happen in 2018 specially in the first quarter.
AMD as its "next big move" and following the 2020 master plan is upgrading its Ryzen CPUs and Vega GPUs to 12nm LP technology in 2018 probably early 2018, the Ryzen and Vega refresh of 12nm or called the 2nd gen. Have in mind that Nvidia has kept the Volta Gaming Graphics a secret and is probably waiting to see the next move from AMD. Some sources has mentioned that AMD is planning to launch AMD 7nm Navi architecture in August 2018 that means it has been moved and expedited from 2019 to q3 2018. AMD's RX Vega line of GPUs did not beat the current pascal GPUs from Nvidia completely. RX Vega 56 did provide more value, compared to the GTX 1070. But as the new line of graphics they could not stand at the top of the chart. So nvidia in return did not go to volta platform and decided to stay at the top with the Pascal GPUs. 1080 TI still has no competitor and is alone at the top of the chart. Nvidia decided to launch a GTX 1070Ti in response of the Vega 56 and then just recently released the new Titan X star war edition to show off the power. AMD is clearly under pressure now to bring something to compete in the highest end of the graphics market and it may be the reason for expediting the 12nm and 7nm platforms. AMD is launching their 2019 7nm Navi architecture earlier in 2018 August.
So now the expectations for 2018 1st quarter is very very very interesting. Amd will probably release the 12nm Vega & Ryzen 2nd gen in Feb or March 2018 perhaps. Nvidia may launch their Volta based gaming GPUs in the 1st quarter of 2018 as well as a response to the AMD new graphics. Volta is also a 12nm process Node but expected to be much more powerful than the Pascal series. In this regard AMD will definitely have to come up with a solution to make their Vega refresh lineup powerful and equally competitive. Otherwise there are high chances that they will have to face the same performance issue that Vega lineup is facing.
For the CPUs and next NM Scale of the processors production basically there are only a handful 4 main semiconductor manufacturers in the world and they are closing in on Intel's lead very fast and just look at the road maps we attached to see how close their timelines are. The three major players include TSMC, Samsung and AMD's key partner Globalfoundries. All of them are maping on their 2020 road map 10nm equivalent or better process technology ready to go by 2019. AMD's EPYC CPU and Ryzen PRO and consumer Ryzen CPUs like threadripper are all right now on 14nm and they did great in 2017. What we are actually predicting as the next move of AMD probably expected to be seen in early 2018 is to move to 12nm sooner than estimated in the charts below and jump in to 7nm in late 2018 to fill the gap in the highest end of hardware. WHY? well as we mentioned that AMD is under a lot of pressure to bring something to compete in the highest end of the graphics market and it may be the reason for expediting the 12nm and 7nm platforms. This is what we may see happen in CPU market. If AMD moves forward and release the new Product lines on 12nm and 7 nm we will se a new move from Intel and NVIDIA for sure.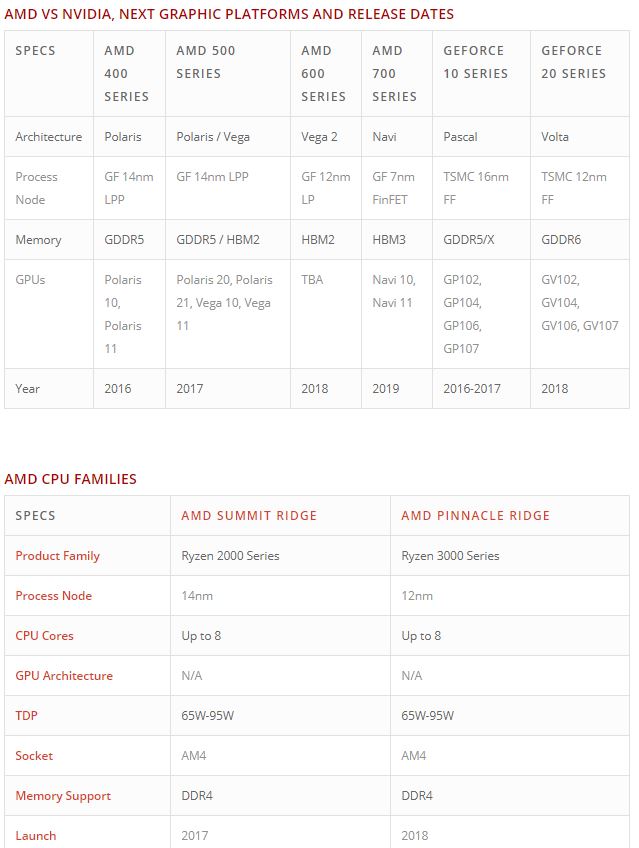 ………..
Tags:
Technology, AMD vs nvidia, AMD vs Intel, AMD 2018, AMD 2018 CPU, AMD 2018 Vega, AMD ryzen 2018, AMD 12nm, amd graphics vs nvidia, Nvidia volta 2018
Mohsen Daemi|News author and moderator for news and gaming articles in ultragamerz.com. Mohsen as video games news reporter along everybody in ultragamerz work hard to bring you all the gaming news from direct and trusted sources. Mohsen provides the most recent news and trends of gaming. He has been Working last 6 years on online platforms, medias and online publishing. He was a contributer for fotoup.com and now in popular-photo.com. Mohsen is based in Massachusetts. In ultragamerz we provide the most recent news of technology and gaming.


CONTACTS DETAILS &FOR MORE INFO:
https://www.ultragamerz.com/contact/
Latest posts by Mohsen Daemi (see all)