August 22, 2017

Mohesn Daemi
Huge Splatoon 2 update
Splatoon 2 is getting a huge update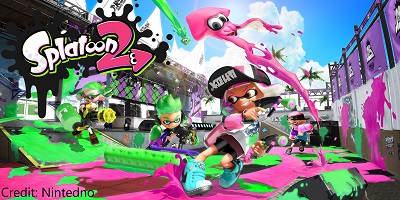 Nintendo revealed a lot of new Splatoon 2 content. A new map, a new weapon, and a new Salmon Run stage. 
The new map
The new map is called The Manta Maria. The Manta Maria is a ship for ranked and TurfWars matches. The Manta Maria will come out on August 26th.
The new weapon
The new weapon is a Bubble Blower. The Bubble Blower can shoot up to 3 big bubbles.The bubbles will explode if you shoot them in your team's ink, and you can kill your opponents by catching them in the bubbles splash zone. The bubbles will disappear if your enemies shoot them long enough, and you can use the bubble as protection. The first weapon set that will include the Bubble Blower is the Forge Splattershot pro. The Forge Splattershot pro will be available from September 2nd. 
The new stage
The new Salmon run stage is called  Lost Outpost. The Outpost was abandoned because of rising sea level. The walls will block you from seeing your teammates, so you have to send signals like "This way."
---
Tags And Keywords:
Technology, video games, Nintendo, Splatoon 2, Splatoon 2 update. 
[av_magazine link='category,2′ items='19' offset='no_duplicates' tabs='aviaTBtabs' thumbnails='aviaTBthumbnails' heading_active='aviaTBheading_active' heading='Recent video Games news' heading_link='manually,https://www.ultragamerz.com/news/' heading_color='theme-color' heading_custom_color='#ffffff' first_big_pos='top' admin_preview_bg="]
Mohsen Daemi|News author and moderator for news and gaming articles in ultragamerz.com. Mohsen as video games news reporter along everybody in ultragamerz work hard to bring you all the gaming news from direct and trusted sources. Mohsen provides the most recent news and trends of gaming. He has been Working last 6 years on online platforms, medias and online publishing. He was a contributer for fotoup.com and now in popular-photo.com. Mohsen is based in Massachusetts. In ultragamerz we provide the most recent news of technology and gaming.


CONTACTS DETAILS &FOR MORE INFO:
https://www.ultragamerz.com/contact/
Latest posts by Mohesn Daemi (see all)