July 20, 2017

Mohesn Daemi
Doom Update 6.66 makes all DLCs free
The update brings a revised progression system, new rune system for load outs, enhanced kill notifications, bug fixes, and all the Multiplayer DLCs.  The update will reset everyone's multiplayer status.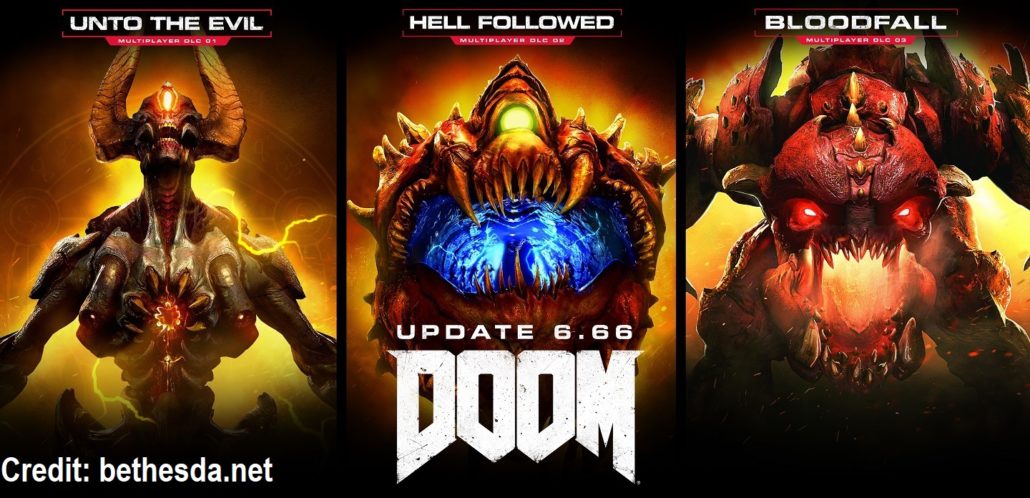 The newly revised progression system will change when and how players unlock stuff like guns and gear. Instead of random unlocks things will require a specific level requirements or by finishing challenges.
The new rune system replaces the Hack Module system. The only difference between the runes and the Hack Modules is that runes can be persistently equipped.
The new kill notification will make the death screen tell you how you were killed by, who killed you, list of the combination of players, weapon types, and damage inflicted.
The update has already been released for the PS 4, Xbox One, and PC. The Doom free weekend has started for PC, more on that here.
The Doom season pass costs $39.99 and a lot of fans think it is not worth it. Most people that bought Doom got it for the single player but the DLCs are only multiplayer maps. The 3 DLCs are Bloodfall, Hell Followed, and Unto the Evil. Each DLC pack has three new maps, one new playable demon, a new weapon, a new equipment item, and a host of new armor sets, taunts, and Hack Modules. 
sources:
https://bethesda.net/community/topic/73729/doom-update-6-66-faq-and-patch-notes/2
Mohsen Daemi|News author and moderator for tech news and gaming in ultragamerz.com. Mohsen as video games news reporter along everybody in ultragamerz work hard to bring you all the gaming news from direct and trusted sources. He currently resides in Massachusetts writing for ultragamerz. Mohsen provides the most recent news and trends of gaming. He has been Working last 6 years on online platforms, medias and online publishing. He was a contributer for fotoup.com and popular-photo.com.


CONTACTS DETAILS &FOR MORE INFO:
https://www.ultragamerz.com/contact/

Articles by Mohsen:
Latest posts by Mohesn Daemi (see all)
https://www.ultragamerz.com/wp-content/uploads/2017/07/156ea462-66d9-4d4f-a43b-f23f7fea0648-1.jpg
279
576
Mohesn Daemi
https://www.ultragamerz.com/wp-content/uploads/2017/02/logo-300x197.png
Mohesn Daemi
2017-07-20 16:34:10
2017-09-19 15:30:11
Doom Update 6.66 makes all DLCs free