August 10, 2017

Mohesn Daemi
Gran Turismo sport will not have any micro transactions
Gran Turismo Sport will be one of the few games without micro transaction.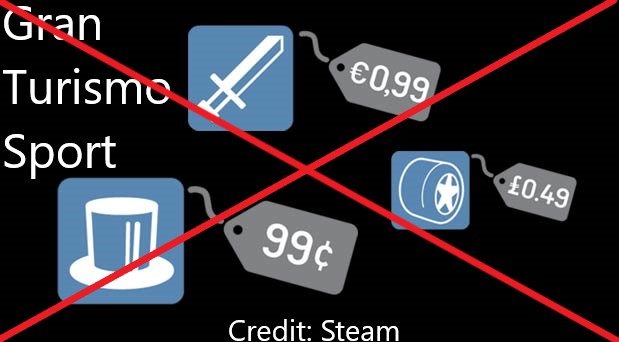 Everyone hates micro transactions. Right? Particularly in games that you paid $60 for it. Well, Gran Turismo Sport will be one of the games without micro transaction. I would've been happier if all the DLCs were free like Star Wars Battlefront 2. When you know there will be no microtransaction, you know you get what you pay for. Many games now sell a basic version and then for all DLCs and updates you have to pay extra which is sometimes really anoying to some gamers.
The developer of Gran Turismo Sport told Gema Show Indo that the game would not have any micro transactions, but there will be paid DLC. I am thrilled to hear that because I hate micro transactions especially in games that I paid $60 FOR !!!! 
Gran Turismo, abbreviated GT, is a series of popular racing video games developed by Polyphony Digital gaming company. Mainly Developed for PlayStation game concules. Gran Turismo games are intended to emulate the appearance and performance of real cars as close as possible.
New Version is to be released : TBD
Latest release: Gran Turismo 6; December 6, 2013
First release: Gran Turismo; December 23, 1997
Main game Publisher: Sony Interactive Entertainment
Platforms: PlayStation; PlayStation 2; PlayStation 3; PlayStation Portable; Playstation Vita; Playstation 4
---
Tags And Keywords:
Technology, video games, Sony, Gran Turismo Sport, Micro transactions.
[av_magazine link='category,2′ items='19' offset='no_duplicates' tabs='aviaTBtabs' thumbnails='aviaTBthumbnails' heading_active='aviaTBheading_active' heading='Recent video Games news' heading_link='manually,https://www.ultragamerz.com/news/' heading_color='theme-color' heading_custom_color='#ffffff' first_big_pos='top' admin_preview_bg="]
Mohsen Daemi|News author and moderator for news and gaming articles in ultragamerz.com. Mohsen as video games news reporter along everybody in ultragamerz work hard to bring you all the gaming news from direct and trusted sources. Mohsen provides the most recent news and trends of gaming. He has been Working last 6 years on online platforms, medias and online publishing. He was a contributer for fotoup.com and now in popular-photo.com. Mohsen is based in Massachusetts. In ultragamerz we provide the most recent news of technology and gaming.


CONTACTS DETAILS &FOR MORE INFO:
https://www.ultragamerz.com/contact/
Latest posts by Mohesn Daemi (see all)