August 15, 2017

Mohesn Daemi
Vega will cost $100 more in a few days
AMD is rising Vegas price $100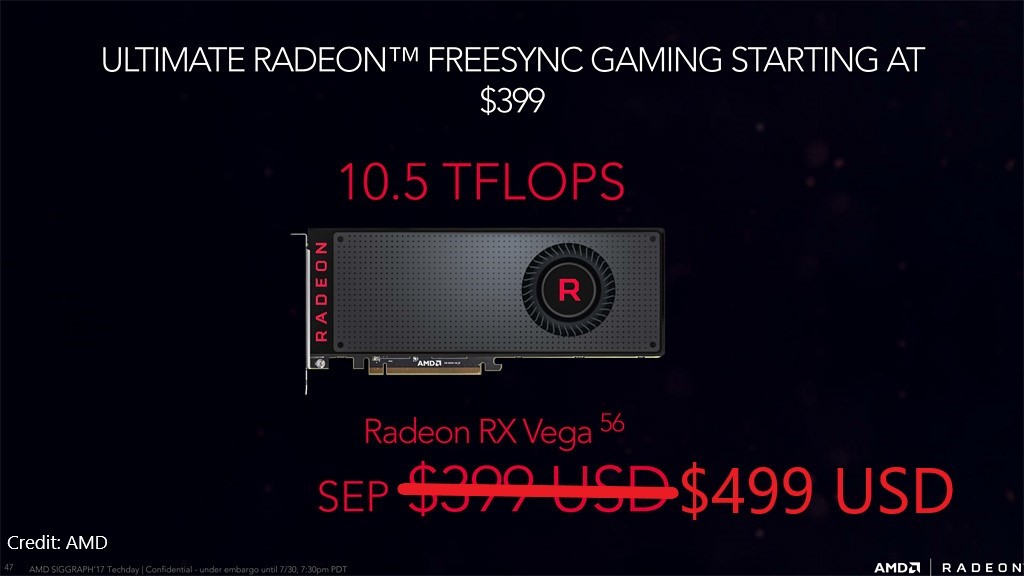 Right now Vega 64 costs $499, and Vega 56 costs $399. Ryzen's price is gonna go raise $100 because of AMD !!
AMD is going to raise Vega 56 and 64 $100. Gibbo [overclockers staff] said, "Now the good and bad news, the good news is AMD are rebating early launch sales to allow us to hit £449.99 on the stand alone black card which has no games. This is a launch only price which AMD at present are saying will be withdrawn in the near future, when if it happens is unknown, but remember do not be shocked if the price jumps nearly £100 in a few days." That is terrible news for AMD because right now Vega 64 is performing like a GTX 1080, and You can pickup a GTX 1080 for $530. Vega 56 will cost $499 but Vega 56 plays just like a GTX 1070, and you can buy a GTX 1070 for $439. That makes Nvidia the GPU king again considering Vega costs more, Vega performs the same as the 1070/108, and it takes a LOT of energy to run it. Vega 64 consumed 310 watts, and the liquid version consumed 386 watts [click here to see Vega benchmarks.]
---
Tags And Keywords:
Technology, video games, AMD, Vega, Vega price.
Mohsen Daemi|News author and moderator for tech news and gaming in ultragamerz.com. Mohsen as video games news reporter along everybody in ultragamerz work hard to bring you all the gaming news from direct and trusted sources. He currently resides in Massachusetts writing for ultragamerz. Mohsen provides the most recent news and trends of gaming. He has been Working last 6 years on online platforms, medias and online publishing. He was a contributer for fotoup.com and popular-photo.com.


CONTACTS DETAILS &FOR MORE INFO:
https://www.ultragamerz.com/contact/

Articles by Mohsen:
Latest posts by Mohesn Daemi (see all)
https://www.ultragamerz.com/wp-content/uploads/2017/08/AMD-Radeon-RX-Vega-56-Reference-2.jpg
231
410
Mohesn Daemi
https://www.ultragamerz.com/wp-content/uploads/2017/02/logo-300x197.png
Mohesn Daemi
2017-08-15 22:02:58
2017-10-08 06:15:39
Vega will cost $100 more in a few days